"Our mission is to enhance the intellectual, civic, and cultural life of Oregon's South Coast by facilitating awareness of local history."
The Coos County Historical Society is a federal non-profit.
Tax ID 93-0446513
Museum Hours
10:00 a.m. to 4:00 p.m
Tuesday thru Saturday
Admission:
Adults $4, Students & Seniors $2
Children Under 12: no charge
... ... ... ... ... ... ... ... ...
See the exciting plans for the new
COOS HISTORICAL & MARITIME CENTER!
(click on the image below to learn more)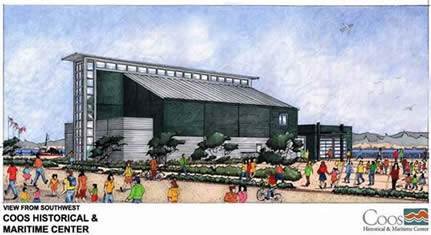 A contractor is about to be selected and upon CCHS's receipt of funds from an expected grant, with additional fund raising continuing for exhibits, interior amenities, and site enhancements, construction should begin in the summer of 2013.
We encourage you to add your name to the permanent donor list (now more than 420 strong!) to be displayed in the Center's main hall. Consider "naming" a bronze survey marker at the entrance, or sponsoring a room, exhibit section, or other popular feature. Just click the photo of the building above to learn more. Now, more than ever, you'll help make the Center happen!!
... ... ... NEWS and EVENTS ... ... ...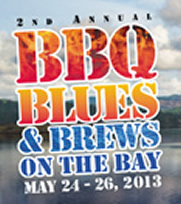 Blues and Brews at the Mill Casino
May 24th - 26th
The CCHS will be helping out this spring at a fun-filled food and music event at the Mill Casino. Come to the 2nd annual "Blues and Brews" event on Friday, May 24 (4 to 7:30), Saturday, May 25 (12 to 8 pm), and Sunday, May 26 (11 am to 5 pm). Each session will feature a BBQ competition, other food venders, live musical entertainment, and a wide selection of craft beers in the beer garden. The CCHS will be sharing in the profits of this event so you can support the Historical Society while listening to great music and enjoying a variety of foods and beverages!
... ... ... ... ... ... ... ... ...
CCHS Publishes New Book: O Pilot!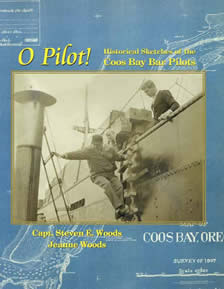 Capt. Steven Woods and his wife Jeanne Woods have authored a new book:
O Pilot! Historical Sketches of the Coos Bay Bar Pilots. Their book is a critically important history of the men who did the hazardous job of guiding vessels safely across the Coos Bay bar.
The Coos County Historical Society is the publisher of record. We would like to thank the Woods' for graciously donating all proceeds from the sale of the book to the Coos Historical and Maritime Museum. The book is available for purchase ($21.95) now at the gift store at the Coos Historical & Maritime Museum in North Bend. If you can't drop in, order your copy by calling the musuem at (541) 756-6320.
Remember, CCHS members get 10% off all gift store purchases. To become a member, click the "Join Us" link at the top of this page.
... ... ... ... ... ... ... ... ...
Two New Maritime Exhibits at Museum!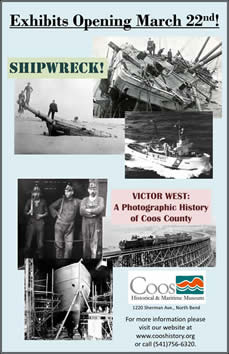 Come visit two new exhibits at the Coos Historical and Maritime Museum in North Bend! The entire maritime exhibit room has been redesigned to exhibit South Coast fishing, shipbuilding, and maritime activity. Artifacts and photographs highlight shipwrecks in particular.
The second new exhibit displays the artistic and historically important photograph collection of Victor West, maritime historian. The centerpiece of this exhibit is a recent donation by Jerry Alvey of a Millicoma Family Boat. This 16 foot-long wooden vessel is a classic of the days of the "Mosquito Fleet" photographed by West. It is perhaps the oldest locally hand-crafted boat remaining in Coos County - over 100 years old!
The new CCHS exhibits have been coordinated with the opening of a maritime art exhibit at the Coos Art Museum in downtown Coos Bay. Enjoy the maritime views of both museums in the Bay Area!
CLICK HERE to check out this news clip about this great exhibit!
... ... ... ... ... ... ... ... ...
... ... ... ... ... ... ... ... ...
Join Us For the Monster Disco Ball
Next October 25, 2013
On Friday, October 26, 2012, the CCHS held a very successful costume dance: The Monster Disco Ball at the Mill Casino. Music with St. John Entertainment was provided. There were a number of raffle prizes for our guests thanks to the generosity of these local businesses: Jennie's Shoe Store; Farr's True Value Hardware; City Subs; Bennetti's Italian Restaurant; Kum Yon's; Chuck's Seafood; Katrina Kathleens; Cedar Electric; Oregon Connection; Portland Bagel; Yellow Cab; Abby's Pizza; Ciccarelli's; Safeway in North Bend; The Mill Casino; Cougar Eye Care. A big thanks to our new major sponsor Big Lots! in North Bend. Make plans to join us in 2013!