Coos County: Our Covid-19 Story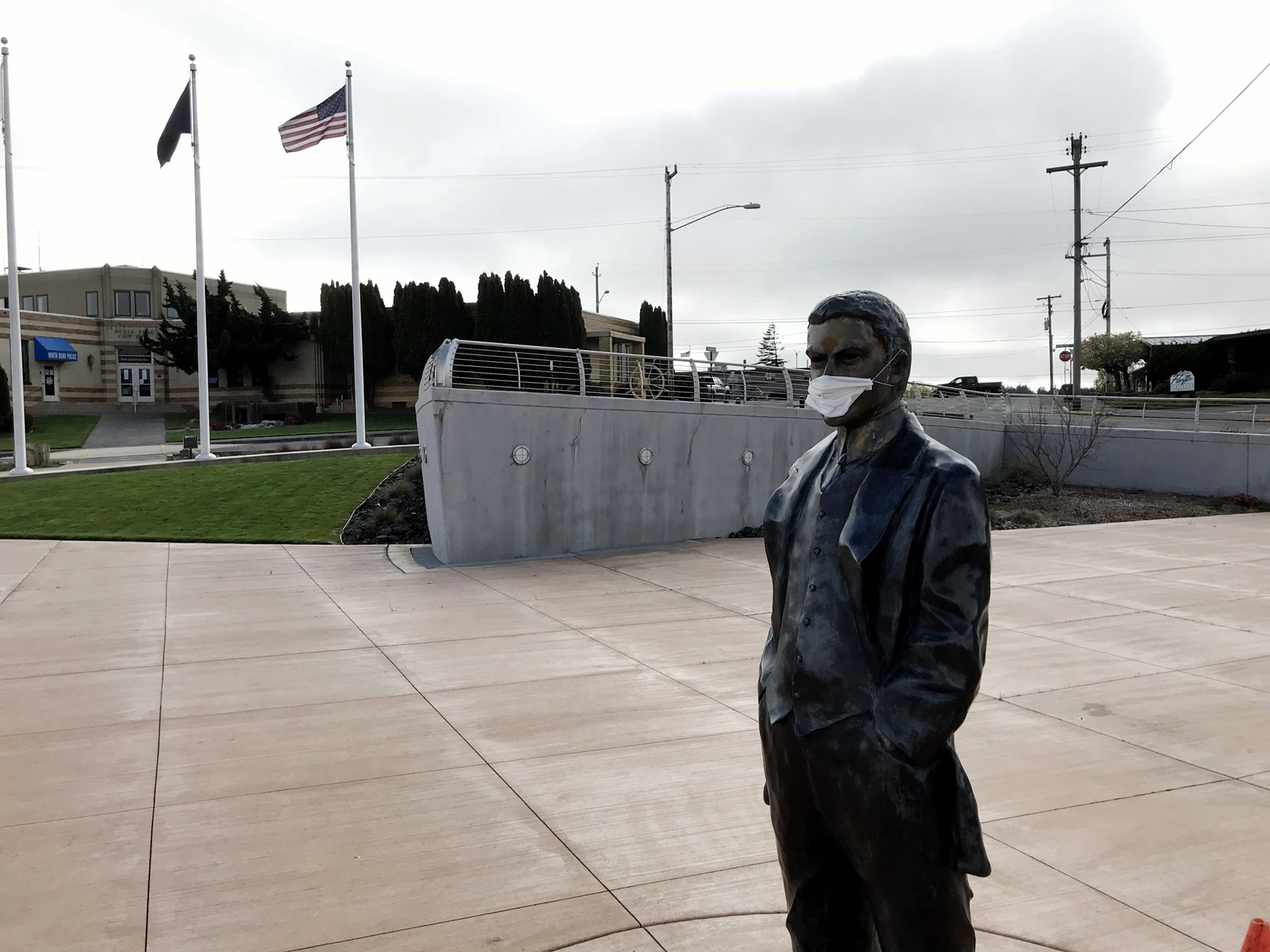 "The statue of Louis Simpson, North Bend's town founder, stands outside of City Hall in April 2020 wearing a mask symbolizing the COVID-19 event on the South Coast. The Coos History Museum encourages South Coast citizens to document stories and images, like this one, in order to gather a historical record of the pandemic" (photo by Steven Greif).
The Coronavirus pandemic is affecting everyone across the world and has created a completely uncharted experience. History is being made as we speak. While we may be experiencing emotions such as sorrow, frustration, and fear, there are still some moments of unexpected joy, laughter, and hope. The Coos History Museum wants to take this time to reach out and provide a platform where we can all can share, collect, and document the experiences of our community.
While the entire world is experiencing this pandemic, Coos County has its own story and is undergoing its own heartache and hopefulness, sadness and strength. We are all creating our own living history every day whether it be through texts, phone calls, social media posts, zoom chats with family, creative projects to entertain the kids, or supporting family, friends, and neighbors in whatever ways we can. The Coos History Museum wants not only to collect this information as a record of our county's history, but also to provide an outlet for our community members to share their stories and experiences through these tough times and uncertain circumstances.
Please share anything that you feel represents this time in our history. Whether personal or communal, happy or sad, please help us create a space for everyone to come together and document this time in our lives. When submitting your content please provide a short description or explanation and let us know names, dates, times, and other pertinent information when applicable. Feel free to include photos, videos, audio, writing, art, music, etc. by: 
*When you submit your content to us you will be agreeing to unconditionally donate your text, images, videos, audio, and all other content to the Coos History Museum.
Check out these articles by Steven Greif featured in The World Newspaper that not only capture our experiences now, but other trying times in South Coast history:
"Like the effort it took to create a road through the Coast Range, we've had hard times, and obstacles in our way, before in Coos County. We documented those events with photographs of our struggles. Help us capture the story of how the historic Covid-19 virus affected our community in 2020." – Steven Greif CHM 992.8.0015
"Photo shows reserved parking spots in front of the EZ Thai restaurant, on Broadway in Coos Bay, in April. During the COVID-19 pandemic, the Governor of Oregon ordered all restaurants to close, except for take-out orders. Many local citizens regularly purchased take-out so that our favorite local restaurants could survive the shutdown." – Steven Greif
"Grocery stores were an essential business and needed to remain open during the Coronavirus pandemic. In April, Safeway in North Bend, like many other stores, began to limit how many people could be in their store at one time. Once a customer entered, a Safeway employee offered to wipe down a shopping cart handle with a disinfectant wipe." – Steven Greif
"Shoppers then noticed that aisles had "one-way" signs so that social distancing could be more effective. Finally, when checking out, clerks were partitioned off from customers with a plex-glass screen and signs on the floor asked customers to stay a safe distance away from others in the check-out line." – Steven Greif
Still Life with Toilet Paper, Isolation Opus 1, by Lois von Hippel
Still Life with Hand Soap, Isolation Opus 2, by Lois von Hippel
Still Life with Mask, Isolation Opus 3, by Lois von Hippel
"South Coast high schools, as well as other schools across Oregon, began to turn on their stadium lights on Friday nights in April of 2020 to honor senior students who could not participate in spring sports or classroom activities as a result of the Covid-19 pandemic." – Steven Greif
"At North Bend High School, the scoreboard read "20 – 20″ as music played over the loudspeaker." – Steven Greif
"On one Friday night in April, stadium announcer Steve Greif read the names of seniors whose tennis, golf, baseball, softball, or track and field seasons were canceled due to the virus." – Steven Greif
"Making face masks for first responders and personal use." – Marcia Hart
"Here are some photos that represent how I see the covid world around me… there is a sad and somewhat lonely beauty to the haunting images that make up our everyday." -Daphne Brislin
"A Quiet America" – by Daphne Brislin

1
HANDS Wash them often
2
ELBOW Cough into it
3
FACE Don't touch it
4
SPACE Keep safe distance
5
HOME Stay if you can