1891-1920s
1920s-1940s
1940s-1990s
2000-Present
1891-1920s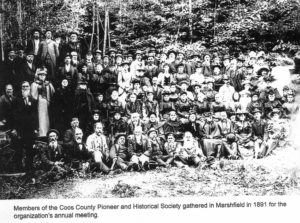 The Coos County Historical Society was founded on November 5, 1891 as the "Coos County Pioneer Association." It is the second-oldest historical society in the State of Oregon.
The organization initially focused heavily on documenting the experiences and accomplishments of the area's earliest white settlers. Membership in the society was restricted to Euro-Americans who had resided in Coos County before 1868.
In 1893 the organization changed its name to "Coos County Pioneer and Historical Society."
One member from each area was selected to gather information about early settlers' experiences and observations while traveling to and living in Coos County. By 1894 there were 139 members. Four years later the society published Orville Dodge's A Pioneer History of Coos and Curry Counties, which is still a standard reference for the earliest period of white settlement. The existence and culture of the local tribes was acknowledged and described to some degree.
Through the early 1900s the Society continued to focus on "pioneer" families and sponsored well-attended annual reunions. Each reunion typically lasted three days: the 1892 event featured business meetings, grand orations, musical performances, splendid picnic lunches, hearty dinners, a grand procession, and boat trips to inspect construction of North Spit's north jetty and the Coos River quarry.
1920s-1940s
1940s-1990s
2000-Present