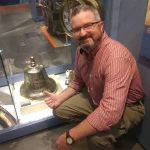 W. E. Pruitt (Trey)
CWO2 USCG Ret.
Citrus Sailor (1992-1993)
Greetings, I wanted to thank you for an enjoyable visit to your facility on April 13, 2019. Bonnie was wonderful, as well as the rest of your staff. I was inspired by one of your displays and have attached and included a poem to do with as you wish. I used to shine that bell when I was stationed here in Coos Bay for the Coast Guard.
To Toll No More
"Dedicated to all of us who sailed her storied decks from 1943 until 1994."
Through swells and sails and billows blast,
to sail the seas, my bronze was cast.
To hang and swing and shine under mast,
to ring with endurance, through time I would last.
The sailors upon the decks below,
they fought for my ship built long ago.
Those who see me remember my charm,
but my strength was there to sound the alarm.
I was born for a war that we know no more,
I stood watch in battle for friends long ashore.
I rang true during the fight as depth charges deployed,
to deal with an enemy and for freedom we roared.
I remember the fright with no harbor in sight,
as we started to sink on that fateful night.
To the crew down below I would later bestow,
that they rescued my ship and for them I glow.
In the fog and night, when there was no light,
I rang true for my sailors and to their delight.
I sang for our safety, I rang for rejoicing,
my tones told of danger and to welcome a stranger.
In a battle at sea I stood watch for you and me,
when the threat of smugglers we did see.
As the guns of my crew rang strong and true,
I stood the watch and knew what to do.
In a storm of old near Port Angeles one night,
I sounded our presence throughout the fright.
I stood watch as a sentry; my shipmates so bold,
in the morning they knew that our anchor did hold.
And for that fateful day, I have survived,
when in Coos Bay an old friend arrived.
To give voice to my mettle and old times of glory,
so that now you know the rest of my story.
Here I sit to toll no more,
Resting at peace and safe on this shore.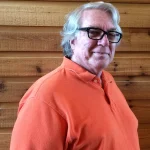 Michael W. Ousley
Artist and Navy Veteran
Member Since: February 2018
The Coos History Museum offers a great value for the price of a membership, and quickly pays for itself. I appreciate the advantages that have come with my Friend Level Membership, which includes the NARM program. I have access to the museum, lectures, demonstrations, changing exhibits, and museum store.
One of the reasons I opted for the Friend Level Membership, is the value as a traveler. When I visit friends in Sacramento, California, I gain free entrance to the California Automobile Museum, the California State Railroad Museum, and the Crocker Art Museum. And when visiting relatives in the Phoenix, Arizona Metropolitan area, I can enter the Heard Museum, the Phoenix Art Museum, and the Scottsdale Museum of Contemporary Art. For the traveler, it is a valuable asset when planning a vacation.